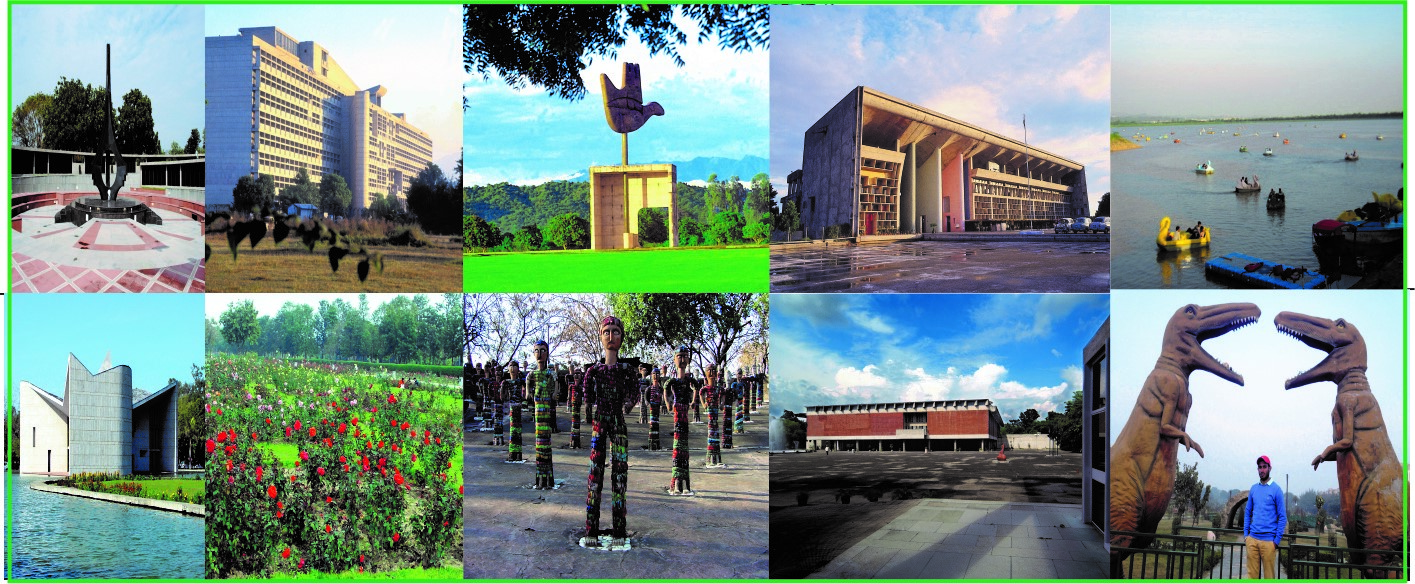 Chandigarh, the City Beautiful is spread over 114 Sq.Kms and divided in sectors. Chandigarh is a clean, neat, green and serene City with lot of tourist attractions in and around it. Since there are lot of beautiful gardens in the City, some tourists also call it City of Gardens.  Many people use it as a Tourist Destination and make tours and excursions to the various places in Punjab, Haryana and Himachal Pradesh while staying for the major period in Chandigarh. Chandigarh is a Union Territory administered by Union Government of India through an Administrator and assisted by an Adviser. In addition to Union Territory, it is also the capital of Punjab and Haryana States.
Tourist Attractions/Places to See: Capitol Complex (consisting of Open Hand Monument, Magnificent Buildings of High Court, Punjab and Haryana Secretariat , Legislative Assembly, Tower of Shadows etc.), War Memorial, Unique and world famous Rock Garden (made out of waste Bangles and other waste material), Sukhna Lake, Gandhi Bhawan in Panjab University, Museum and Art Gallery complex,   Asia's largest Rose Garden and many beautiful Gardens – Shanti Kunj, Fragrance Garden, Terraced Garden, Japanese Garden, Valley of Animals, Garden of Palms etc. etc.
There are lot of tourist attractions around Chandigarh, such as Chhatbir Zoo, Pinjore Gardens, Nada Sahib, etc. While staying in Chandigarh, tourists can also make excursions to Kurukshetra (Haryana), Anandpur Sahib (Punjab) and Kasouli (Himachal Pradesh) etc. While visiting Chandigarh, tourists can also club their visit to Amritsar, Shimla and Manali, important tourist places of northern India.
Location: Chandigarh is located approx. 250 K.Ms north west of Delhi, the national Capital of India.
Route/Accesibility: Chandigarh is connected by Air, Rail and Bus with Delhi and various other cities of India. By road, one can reach Chandigarh from Delhi via Sonipat, Panipat, Karnal, Pipli, Ambala, Dera Bassi and Zirakpur.
Accommodation: There is large number of Hotels in and around Chandigarh in Govt. and private sector ranging from budget accommodation to Five Star Hotels.
General Information:
Altitude Above see level:304-365 Meters
Temperature: Season Mimimum Maximum
Winter     4 Degree C     14 Degree C
Summer  37 Degee C     44 Degree C
Best Season to Visit: Chandigarh can be visited throughout the year.
Clothing: Summer: Light cotton, Winter Woolen
Language spoken: Hindi, Punjabi and English.
Items to carry: Required medicines etc.
Any other information: Foreign Tourists need Passport to visit Capitol Complex.