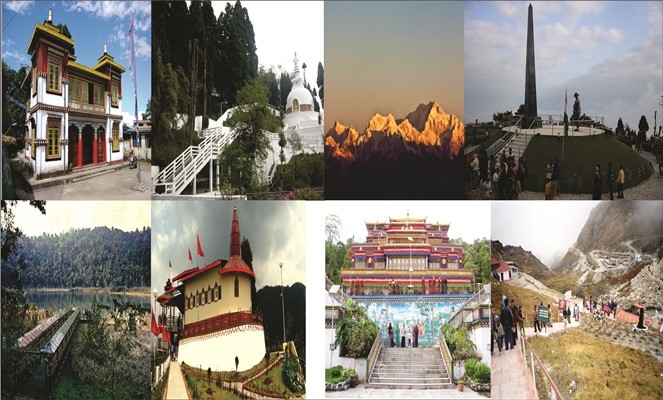 Brief about the Destination:  Gangtok is a beautiful hill town and the capital of north-eastern state of Sikkim. This is one place which many tourists like to combine along with a visit to Darjeeling. In fact the combined trip of Darjeeling-Gangtok is a common recipe when people think about visiting this part of the country. This is mainly because of the proximity of the two places as well as easy access. Once a summer resort for the British Raj elite, it remains the terminus of the narrow-gauge Darjeeling Himalayan Railway, or "Toy Train," completed in 1881. It's famed for the distinctive black tea grown on plantations that dot its surrounding slopes. Its backdrop is Mt. Kanchenjunga, among the world's highest peaks.
Places to Visit: GANGTOK: Indian Institute of Tibet-ology,Hanuman Tok, Checheopalri Lake, Nathula Pass
DARJEELING: Tiger Hills, Peace Pagoda, War Memorial, Monastery
Location:  DARJEELING is located in the lower Himalayas at a height of 6,982ft. In the upper reaches of the state of West Bengal, it is the headquarters of Darjeeling district and counts Nepal, Sikkim and Bhutan as its neighbours. GANGTOK is a municipality, the capital and the largest town of the Indian state of Sikkim. It also is the headquarters of the East Sikkim district. Gangtok is located in the eastern Himalayan range, at an elevation of 1,650 m (5,410 ft).
Route: Chandigarh-Ambala-Delhi-Agra-Kanpur-Lucknow-Fizabad-Basti-Khushinagar-Darbhanga-Bahadurganj-Pankhabari-Darjeeling- Kalimpong-Gangtok.
Distance from Chandigarh: Darjeeling   is about 1784 .Ms from Chandigarh. Chandigarh to Siliguri by train in 1717 K.M.s and Siliguri to Darjeeling is 67 K.Ms. Gangtok is around 110 K.Ms from Darjeeling.
Accommodation: Accommodation in Govt and private sector is available at Darjeeling and Gangtok. However, it is better to book the accommodation in advance during tourists season.
General Information:
Altitude above sea level:
   Darjeeling:            2042  Mtrs
    Gangtok:                 1600 Mtrs
Temperature-(Approx in Degree Celcius)
Season
Darjeeling

Maximum    Minimum

Gangtok

Maximum      Minimum

Summer
19           11
27              20
Winter
10           2.5
08              02
Best season to visit:  April to June and Mid September to October.
Clothing: Light woolen in summer  and heavy woolens in Winter.
Language: Darjeeling: Hindi, Nepali, Bengali, English Gangtok: Hindi, Nepali, English, Bhutia (Sikkimese), Tibetan and Lepcha.
Items to carry: Required  medicines , Sport Shoes etc.
Any other information: Tourists should be mentally and physically ready for trekking and walking.