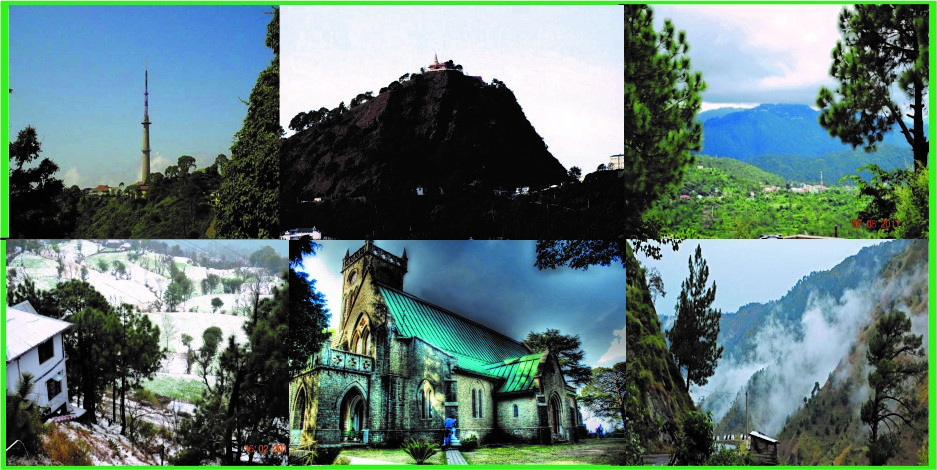 Kasauli is the beautiful hill station. The narrow roads of Kasauli move up and down the hillside and offer magnificent views. Directly below is the spread of vast plains of Punjab and Haryana, unroll a gorgeous carpet of twinkling lights in the evening after sunset. The upper and lower malls run through Kasauli's length and one can enjoy long walks. A mixed forest of pine, oak and huge horse-chestnut encircles the town.
ATTRACTIONS: The Monkey Point is one of the most popular tourist attractions Kasauli and is the highest in the region, and thus provides great view of the vicinity. The other attractions include Christ Church, Lower Mall, Upper Mall, Gilbert Trail and Sunset point.
LOCATION: Kasauli is located in Solan district of Himachal Pradesh.
HOW TO REACH: : Kasauli is connected by road with Chandigarh, Delhi, Shimla etc. . The closest broad gauge railhead is at Kalka, 37 km away. The closest airports are at Chandigarh and Shimla. Tourists can reach Kalka from Chandigarh, Kalka and Delhi by Bus or Taxi.
DISTANCE : Kasauli is 65 km from Chandigarh and 77 km from Shimla.
ACCOMMODATION: Though most of the tourists prefer to stay at Chandigarh and make excursions to Kasauli. However, there are some Hotels in Kasauli also.
GENERAL INFORMATION:
Altitude above sea level: 1927 Meters.
Climate and clothing: In winter, the temperature gets quite low and heavy woolens are required. In summer, the climate is mild and light woolens /cottons are required.
BEST SEASON TO VISIT: Throughout the year.
Language: Hindi and English.
Items to Carry: Water bottles, required medicines etc.
Any other information: Kasauli is a cantonment area and only permissible places may be visited.