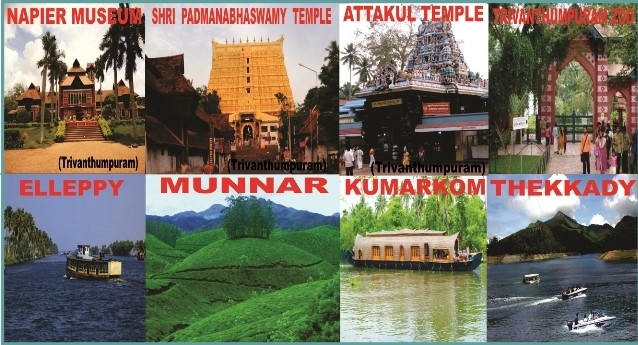 Brief about the Destination: Kerala is one of the most popular tourist destinations in the country. It is well known for its beaches, backwaters , mountain ranges  water falls, wildlife sanctuaries  and  historical &  cultural  monuments.  With the Arabian Sea in the west, the Western Ghats in the east, Kerala enjoys  unique geographical features  that have made it one of the most sought after tourist destination in India.
Places to visit within Golden Temple: Munnar, Thekkady, Alleppy, Kumarcom  beach, Kovalam beach, Travandrum capital city of Kerala etc.
Location: Kerala is situated on the southwestern coast of India. This tropical paradise enjoys a unique topography with Arabian sea, a part of the Indian Ocean on the west and the Western Ghats on the east.
Route: Chandigarh-Delhi-Jaipur-Udaipur-Ratlam-Indore-Dhule-Mumbai-Goa-Manglore-Cochin/Kochi-Trivanthampram-Kanyakumari.
Distance from Chandigarh:  Road distance: Approx 3000 K.Ms. Distance by air: 2310.8 K.Ms and by train:3400 K.Ms
Accommodation: Accommodation is available at various tourist places in Kerala, which may be booked in advance.
General Information:
Altitude above sea level: Cochin 0 Meters and Trivandrum 10 Meters.
AVERAGE TEMPERATURE OF KERALA
(In Degree Celcius)                              Maximum   Minimum         
Summer (Feb-May)                                           34                 24
Monsoon (June-Sept.)                                      30                 20
Winter     (Oct.-Jan)                                           28                 18
Best season to visit: December to May
Language: Malyalam, English, Hindi
Items to carry: Required medicines etc.
Any other information: Please  do not pollute beaches by throwing plastic disposable items and while visiting religious places local traditions may be followed