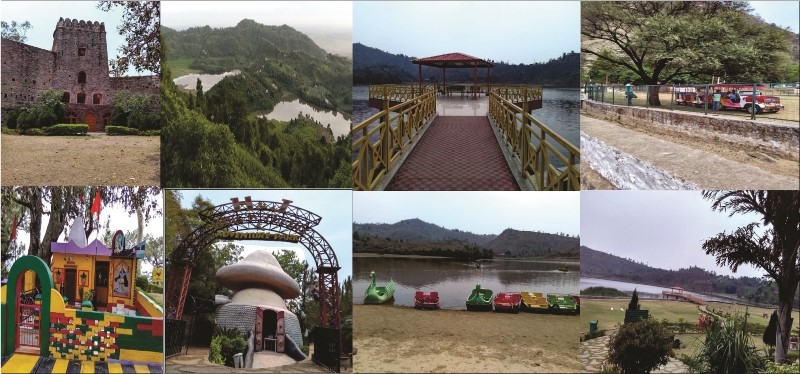 Brief about the Destination: Situated in the lower reaches of the Shivalik range, Morni is a place with picturesque location for a holiday with its cool climate, beautiful natural vistas and myriad opportunities for bird watching, trekking, boating etc. It is the  only hill station of Haryana, which  is an ideal place for picnic and short trips all the year around. The place has lot of greenery  with a mixture of hill and plain vegetation in mountainous surroundings. Tourists reach  there  winding through hill tracks, forest cover and pine trees. It is also known for its Himalayan views, flora, and Fauna.  Enroute to Morni you will also see many monkeys and langoors.
Places to Visit: MORNI HILLS:  Morni Fort, Shiva Temple Hill views etc.
TIKKAR TALL: Adventure Park, Tikkar Taal,  Boating, children playing games, Resting place  within the Tikkar Taal and natural beauty, view of Two Taals (Lakes) which are believed to  be mysteriously interconnected, even though they are separated by a hillock.
Location: Morni  is located  in the Panchkula district of the Indian state of Haryana. and Tikkar  Taal is located  nine  K.Ms from Morni.
 Route: Chandigarh-Nada Sahib-Morni Hills-Tikkar Taal.
Distance from Chandigarh: Morni is about 45 K.Ms from Chandigarh and 35 K.M.s from Panchkula. Tikkar Taal  is around 9 K.Ms from Morni Hills.
Accommodation: Accommodation in Govt. and private sector is available in Chandigarh, Panchkula, enroute to Tikkar Taal and  even at Tikkar Taal. Most of the tourists, however, prefer to make excursions  from Chandigarh to Morni Hills & Tikkar Taal.
General Information:
Altitude above sea level:
Morni Hills:               4000 ft.
Tikkar Taal:                300 ft.
Temperature-(Approx in Degree Celcius)
Season
Morni Hills

Maximum               Minimum

Summer
45                  18
Winter
33                  04
Best season to visit:  October to March
Clothing: Light cotton  in summer  and heavy woolens in Winter.
Language: Hindi and English
Items to carry: Required  medicines, Sport Shoes etc.
Any other information: Limited bus Service. Taxi or self   driven vehicle is the best way to reach this place. Do not take bath in the Lake, as these are very deep.