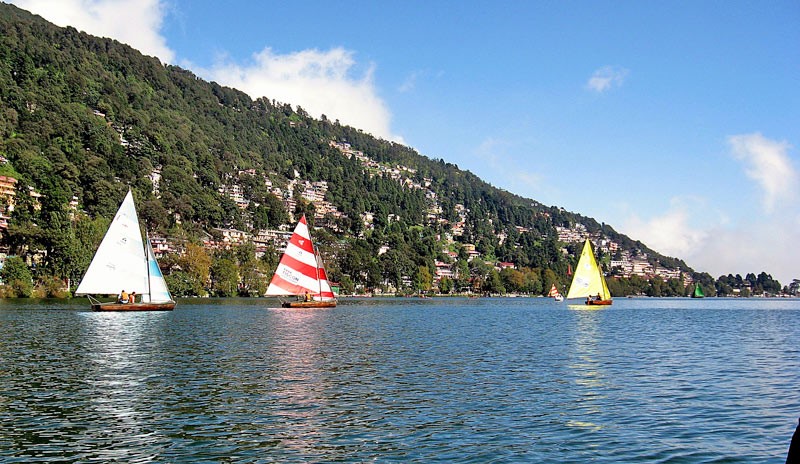 Brief about the Destination: Nainital is one of the most beautiful hill stations in North India. It is also called Lake District of India.  Surrounded by mountains on three sides,  Nainital is located around the beautiful lake Naini Tal. This beautiful small town in surrounded by seven hills, popularly known as 'Sapta-Shring' – Ayarpata, Deopata, Handi-Bandi, Naina, Alma, Lariya-Kanta and Sher-Ka-Danda. The majestic mountains and the sparkling waters of the lake add a lot to the beauty of the town. The city is a beautiful mixture of all the hues of nature.
Places to visit :Naini Lake, Naina Devi Temple, Bhim Tal, Saattal, Mall Road, Hanuman Garhi, Zoo Gardens. Excusions can also be made to Rani Khet, Almora and Kasauni etc.
 Location: The Lake District of India 'Nainital' is in the State of Uttarakhand,  India.
Route: Chandigarh-Ambala-Kurukshetra-Karnal-Shamli-Muzzafarnagar-Bijnore-Dhampur-Afzalgarh-Kashipur-Ramnagar-Nainital
Distance from Chandigarh: Approx. 460 K.Ms
Accommodation: Sufficient Accommodation is available in Nainital. However, during tourist season, it is better  to book the accommodation in advance.
General Information:
Altitude above sea level: 1938 Meters
Temperature: Maximum Minimum
(Degree Celcius)                                  
Summer                 26.7       10.6
Winter                    15.6       2.8
Best season to visit: Nainital  can be  visited at any time during the year. However, the best season is from April to June and then again from September and October.
Clothing: Summer: Cotton/ Light woollen,
Winter:  Heavy Woolens
Language: Kumaoni, Hindi, Garhwali
Items to carry: Required medicines, sports shoes   and clothes as per season.
Any other information: There are traffic restrictions at the Mall Road, Nainital,  which must be followed.