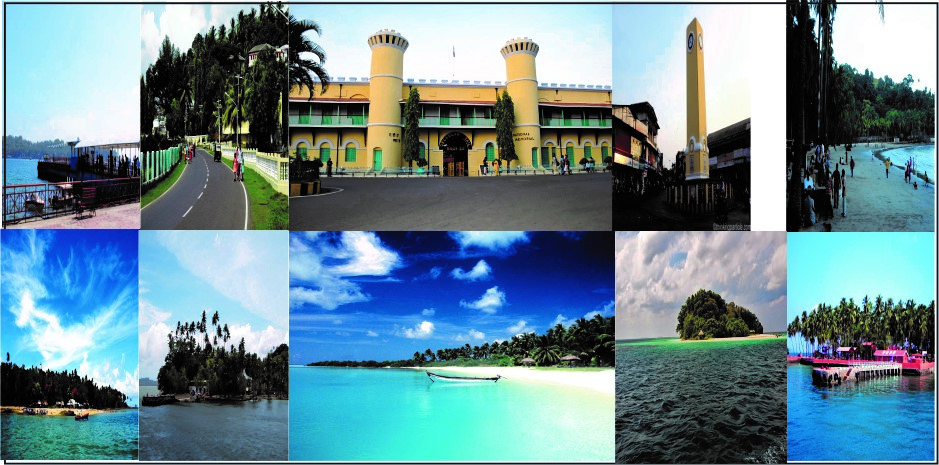 Port Blai, the capital of the Andaman and Nicobar Islands, spread over 16.64 square kilometers is a union territory of India situated in the Bay of Bengal. This is the entry point for visiting Andaman and Nicobar Islands.
The Andamans is an archipelago of over 570 tropical islands, of which only 36 are inhabited. Radhanagar beach at Havelock was bestowed with the title of 'Asia's Best Beach' in 2004 by the TIME magazine. It is also listed as world's 7th most spectacular beach on Time magazine list.
Tourism is a major industry in Andaman. Bulk of the revenue earned by the government of Andaman and Nicobar is through the tourism industry. Growing sectors in tourism and potential area of investment are water sports and adventure tourism including trekking, island camping, snorkelling and scuba diving etc.
Attractions /Places to See: Within City: Cellular Jail, Rajiv Gandhi Water Sports Complex, Fisheries Museum, Anthropological Museum, Samudrika, Chatham Saw Mill & Forest Museum.
Other Places to see: Corbyn's Cove Beach, North Bay, Ross Island, Havelock Island, Wandoor Beach, Jolly Bouy Island/Red Skin Island, Chidiya Tapu, Bartang Island.
Location: Port Blair is located in the Bay of Bengal and is the capital of the Andaman and Nicobar Islands, a union territory of India.
Distance: The Aerial distance between New Delhi to Port Blair is 2485 K.Ms, 1304 K.Ms from Kolkatta and 1367 K.Ms from Chennai. The distance by ship travel is 1236 K.Ms from Kotkatta and 1191 K.Ms from Chennai.
Accommodation: Sufficient accommodation is available at Port Blair. However, it is better to book the package tour or accommodation in advance for Port Blair.
General Information:
(i) Altitude above sea level: 16 Meters
(ii) Temperature: Maximum: 31 Degree C and Minimum 23 Degree C
(iii) Best season to visit: December to April
(iv) Clothing: Light cotton
(v) Language: Nicobari, Bengali, Tamil, Malayalam, Hindi, English
(vi) Items to carry: Required medicines, clothes required at the beaches, dry fruits, biscuits, water bottles.(vii) Any other information: Since no drinking water/food is available at most of the islands, tourists are advised to carry their drinking water/foodstuffs/dry fruits etc. while visiting various islands.