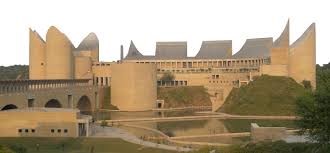 Brief about the Destination: Virasat-e-Khalsa is a museum of the Sikhs located in the holy town,  Anandpur Sahib. The museum  was inauruated  in 1999  to celebrate celebrates 500 years of the Sikh history  and the 300th anniversary of the birth of Khalsa.
In 1499, Guru Nanak Dev Ji  founded a unique religious faith rooted in the core values of universalism, liberalism, humanism and pluralism. The nine Gurus after him consolidated his teachings, further articulating the faith, thereby establishing Sikhism as a way of life. Anandpur town was founded by Guru Tegh Bahadur Sahib on June 19,1665. Here, Guru Gobind Singh Ji  baptised the first five Sikhs called the Panj Piares, the five beloved ones in 1699 and created the nucleus of the Khalsa. The Takht Kesgarh Sahib is one of the major pilgrimage attractions of Anandpur Sahib. People from all over the world come to this place of worship to pay homage to their revered Guru The city is closely associated  with Sikhs religious traditions and history. With an awe inspiring natural scenery, a number of forts, gurudwaras & museums, and rich cultural history associated with the place, Anandpur Sahib is one of the biggest attractions for tourists in Punjab.
Places to see: Virasat-e-Khalsa, Gurudwara  Takht Sri Keshgarh Sahib, Gurudwara Guru Ka Mahal, Gurudwara Thara Sahib, Gurudwara Sis-Ganj Sahib, Gurudwara Damdama Sahib, Gurudwara Manji Sahib, etc.
Location:Anandpur Sahib a city in Rupnagar district (Roper) in the state of Punjab, India.
Route:Chandigarh-Kharar-Kurali-Ghanauli-Bharatgarh-Kiratpur Sahib-Kotla-Anandpur Sahib
Distance from Chandigarh:  Approx. 90 K.Ms
Accommodation: Suffifient  accommodation is available at Chandigarh and Anandpur Sahib for Night stay.
General Information:
Altitude above sea level: 313 Meters
Temperature: Minimum          Maximum
(Degree Celcius)                (Degree Celcius)
  Summer        23                       45
Winter           04                        24
Best season to visit: Throughout the year. However, September to March is more comfortable.
Clothing: Summer: Cotton    Winter: Woolen
Language: Punjabi, Hindi and English.
Items to carry: Required medicines.
Any other information: Virasat E Khasla remains open from 10.00 A.M. to 6.00 P.M. and remains closed on Sundays and national Holidays.